The Hot Shots Comedy Cruise Features dozens of "name" TV and movie comedians….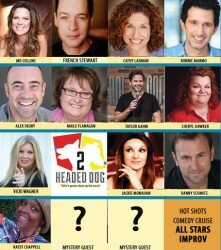 Sandra Kuker will host the Hot Shots Comedy Cruise March 15-19, 2014 and wrangle the A-List of Comedians performing exclusively for our cruise clients. This 100 proof hilarious sea adventure mixes luxury amenities and laugh-out loud comedy every day. It's a unique experience to mix cruising with comedy mayhem and the on-shore sites of Catalina Island and Ensenada, Mexico. We expect a little crazy, but we will leave no passenger behind! All for one and one for all on what promises to be the happiest boat on the Pacific.
"I have seen a lot of theme cruises over the years, such as music or Star Wars cruises – but very few of them have the kind of star-power where you sit up and take notice." — PMotter, Cruisemates
Scheduled to appear:
FRENCH STEWART, MO COLLINS, MAILE FLANAGAN, RONNIE MARMO, CHERYL HAWKER, ALEX SKUBY, CATHY LADMAN, VICKI WAGNER, 2 HEADED DOG, DANNY SCHMITZ, KATSY CHAPPELL, JACKIE MONAHAN, TAYLOR GAHM, and a few more surprises in store!
"We've gathered the most hilarious, well-loved, and critically acclaimed Comedians from your favorite stage productions, film and television shows. This rowdy and ridiculous comedy crew is scheduled to perform exclusively onboard the HOT SHOTS COMEDY CRUISE – Sapphire Princess Ship, March 15-19, 2014, just for passengers of Cruise Guys." — Sandra K.
Passengers have access to Private Nightly Comedy Shows, Bon Voyage Cocktail Party, receive Shipboard Credit, and swag – Sponsored by MORENO BHLV, in addition to the regular Princess Cruise activities. Our passengers can participate in judging our own Comedy Cocktail Match (similar to Last Comic Standing), and more.
Prices start at: $449 + Taxes & Registration Fees!
Don't miss this boat!
Contact CRUISE GUYS today at or email .
Additional Info at website: http://cruiseguysbh.com/hot-shots-comedy-cruise.html.