Fight the Irritation of Everyday Life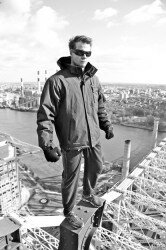 (BPT) – Everyone experiences irritations from time to time, but a surprising new statistic shows that eight in 10 men experience underarm irritation during their everyday routine.
Dove Men+Care Deodorant and renowned Hollywood stunt-double, Bobby Holland Hanton, want to help men realize that many irritants like this can be eliminated or avoided altogether. In between executing death-defying stunts and staying in shape with rigorous workouts, Hanton took the time to tell us how he stays comfortable, and irritation-free:
Keep calm under pressure. "Everyone deals with deadlines and stressful situations. Mine just happen to be free-falling from 100 feet in the air or hurdling from building to building without a safety net," says Hanton. "No matter the situation, it is necessary to take a few deep breaths and moments of mental silence to remember why you are doing what you are doing. If you are too tense in any given situation, the outcome will never be as successful. For instance, if I am stressed about a certain stunt, I will not be able to focus on getting it right. That is why I take a step back and mentally reconvene."
Stay protected. "My career requires long, active hours on set. In between working out at the gym, I am rehearsing movements over and over to implement strenuous stunts. I do not have time to worry about physical irritation, unappealing sweat stains, or smelling," Hanton says. "Therefore, I use Dove Men+Care Cool Silver Deodorant, because it provides long-lasting protection in a non-irritating formula. It is important to care for your body and understand what products protect you against those unnecessary irritants that can unexpectedly pop up during the day."
Take time to sustain. "In order to maintain a healthy and comfortable lifestyle you have to know your body and your limits. There is a lot that happens between the time you wake up and the moment you fall asleep – and for me, that entails appearing on camera, and engaging in mentally and physically draining stunts," says Hanton. "Be sure to take care of your body and avoid anxiety. Take a shower, eat right, rest well and feel good about yourself."
Whether you are jumping off of a building, or jumping into a pile of paperwork, follow these tips to create a routine without any interference. To learn more about Dove Men+Care Cool Silver Deodorant and how it is Tough on Sweat, Not on Skin, visit DoveMenCare.com.