One-on-One with Randolph Mantooth
Arguably the most popular character on NBC's hit show Emergency! as 'John Gage' from 1972 to 1979, RANDOLPH MANTOOTH has been the most famous firefighter and paramedic on the planet for the past 40 years. Self-described as "the funny one" on the show, his fan base continues to soar around the world. Originally airing every Saturday night, Emergency! was the perfect blend of comedy and drama: "When that bell goes off I'm as professional as anybody; I did not carry the comedy into the rescues." Today reruns can be seen six nights a week on MeTV in the U.S. Mantooth still receives fan letters from Germany, is recognized during cab rides in Italy, on a barge in The Netherlands and has close to one million hits on his website. After Emergency! he appeared on Broadway (in Rain Dance) and became a regular on soap operas including Loving and General Hospital.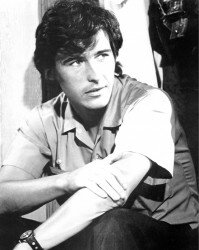 He is a lifetime member of the National Association of Emergency Medical Technicians and the Honorary Chairman and Spokesman for the Los Angeles County Fire Museum (which is where the Squad and Engine 51 from the series are). And yes, he and Kevin Tighe (who played his partner 'Roy DeSoto') are still best friends! A history buff, Mantooth reveals "the biggest honor of my life" was the Smithsonian Institute housing Emergency! memorabilia including their helmets, turnouts, biophone and defibrillator in its Natural History Museum. As a professional speaker, Mantooth recently worked with former President Bill Clinton regarding safety issues and travels all over the nation educating firefighters and paramedics on important subject matters. He has donated his time to Make-A-Wish and appeared on Sons of Anarchy not long ago. Efforts are also underway to get Mantooth and Emergency! much deserved stars on Hollywood's Walk of Fame.
When did you decide to become an actor?
I was born in Sacramento and by the time I was 18 I lived in 24 states because my father was a pipeline construction worker. Always the new kid in town trying not to draw attention to myself, I was constantly acting like I had always been there. During high school in Santa Barbara the director of the drama department wanted me to do a play and I thought … a play? No, because I was hanging around baseball and football players. He talked me into performing John Proctor in The Crucible; I had no idea what I was saying, I just memorized and said the words. But, I remember the feeling I got after almost wanting to faint once the curtain went up when the audience reacted every time I would speak: "Whoa, this is good." I kept doing plays, followed my actor friends to Santa Barbara City College, then to the American Academy of Dramatic Arts in New York. I knew my parents couldn't afford it so my Mom, bless her heart, got me a scholarship. I just wanted to be around my friends; I didn't necessarily want to be an actor. I went to the Academy and shared a Best Actor Award with Brad Davis. Somebody from Universal Studios saw me and offered me a contract.
You didn't want your role on Emergency! at first.
When they said I was going to play L.A. County Firefighter/ Paramedic Johnny Gage the first thing I said was, "What's a paramedic?" They didn't even exist at that time … and I didn't want to cut my hair; you have to understand I was 20 years old. Once the show became popular I let my hair grow long, but the fire department was so upset with me; I would always hide from them when they came to the set!
No other show can hold a candle to Emergency!
You know why? Here's my theory and I do believe I'm right … When Emergency! first started, Bob Cinader, who created and produced the show said, "We're not going to make anything up; we have to get all the rescues from real firemen's logs." Hollywood always feels like they can do it better and the fans always tell me they just want to see the immediacy of what really happens, the truth. Emergency! was one of the first procedural shows; we had to take the course to become paramedics and there was always a technical advisor/real firefighter on the set. My first rescue I went on after we had gone through paramedic class had me dumbstruck; I couldn't move or speak … A little boy had just been run over on his bike; scared to death he asked, "Am I going to die?" The captain smiled, "No buddy, not on my watch." I saw that little boy get better right before my very eyes; verbal placebo. Cinader said we're not going to lie to people [on the show], but we're not going to scare them either. A lot of adlibbing was also allowed so you had to really be into your role or you wouldn't make sense.
The cast was amazing!
Cinader just hit a homerun with everybody! Julie London (Nurse Dixie McCall) was a mentor to all of us. She let the words work for her rather than emoting; that's all anybody needed. Mike Norell (Captain Hank Stanley) had the driest sense of humor; I just loved him! Tim Donnelly (Firefighter Chet Kelly); there were times you absolutely loved him and other times you just wanted to clock him! Ron Pickard (Doctor Mike Morton) was a real medic in the Navy! When he did his scenes, he didn't fool around and the director just let him do it; we are still good friends. And I wouldn't have been funny without Kevin!
Back then you did your own stunts during the rescues.
All you have to do is tell a 22-year-old kid, "We're gonna have the stunt men do it because we know you can't." Don't tell me that! (Laughs) They got away with that for four or five years; they questioned if we could do it, told us to prove it and then yelled, "Roll it!"
Emergency! was filmed all over L.A.; do you ever drive by locations and remember rescues?
Oh, yea! We were always filming in Burbank and Toluca Lake, but it has changed … The housing complex is now an office building… I remember delivering a baby in that house… The Pasadena Bridge scared me the most; it is dizzyingly high. This small stunt guy playing a child goes into this overly-acted crazy seizure while I'm trying to get a belt around him telling him to stop because he was going to push us both over the bridge. When they finally yelled "cut," I went, "Are you trying to get us killed?!" To this day that is what I think about when I drive by that bridge.
Do you have a favorite episode?
"Snake Bite" written by Jim Page, a [former] battalion chief (whom Mantooth's character was originally named after). Roy had already taken off for the hospital, I got bit by a snake and had to start my own IV. I remember saying, "I thought we were supposed to be real; I can't start my own IV." He responded with, "You ever see a drug addict?" and I went, "Ohhhhh, I guess you can start your own IV."
What was it like reuniting with Robert Fuller (Dr. Kelly Brackett) 20 years later on Diagnosis Murder?
It was fun and it was weird. Chris Nyby Jr., who directed many Emergency! episodes directed this and kept this magnetized "51." He brings it to the set and slaps it onto a squad. Kevin's daughter played a news reporter; it would have been great if Kevin was in it too.
You loved your roles on Loving!
I loved my roles on Loving! Every morning I'd go, "And they're paying me?" (Laughs) I was having the time of my life surrounded by beautiful women, making a lot of money and back in New York. I hated it when it finally ended.
You went to Ground Zero right after 9/11…
I was kind of sorry I went down there … Here's the problem: I can still smell death and then I started to taste it. It was late, they were still digging and we heard a bell … Somebody comes out with a body part on a gurney, everybody stops, lines up and takes their helmets off. Right away I thought this is very selfish on my part. "Why did I want to come here? Did I really need to see this carnage?" So I left.
You give keynote speeches and you teach firefighters the dangers of CO (Carbon Monoxide) poisoning.
There is no profession on earth more exposed to CO than firefighters; they get it when they take off their masks, turnouts and bunker gear after a fire. You can't see or smell it and its killing them. Firefighters have heart attacks at 49 years old; more and more science is saying they are caused by monoxide exposure. We are making them more aware that they can't take their gear off especially during overhaul, when the fire's out. I also give motivational speeches to paramedics to remind them why they do what they do. Some burn out; you can only see so much [loss] … they see more in a week than most people do in a lifetime.
You are also a screenwriter?
Pat Proft, who co-wrote Airplane! and The Naked Gun, and I acted in a TV show together and really bonded. We were supposed to write together, but I wound up writing a comedy script by myself, The Proxies. I would read sections of it to my sister and had her in stitches so I knew I was on the right track!
Any interest in performing on Dancing with the Stars?
No … my wife would love for me to do it, but I'd prefer not to be in a body cast for a good chunk of my life! (Laughs)
Upcoming projects?
I'm writing another script and I've gotten some offers to do theater. I'd love, love, love to get Kevin and I on stage; it would be the first time we have worked together since Emergency!
www.RandolphMantooth.com
www.TheSilentKiller.net for more info on CO poisoning