World Premiere of The Belle Aires at the El Portal
Bonaventura Entertainment presents The Belle Aires written by Maria Elena Cellino and directed by Vinnie Torrente.
Producers are Julie Barry, Vinnie Torrente, Maria Elena Cellino, and John S. Curran.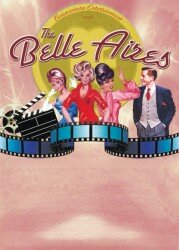 The Belle Aires is a captivating and hilarious story about the reuniting of three rival superstars of the Golden Era of Hollywood. Though unemployed, they live in the hearts and memories of loyal fans throughout the world. The actresses join forces with a former casting agent to devise an ingenious plan to take them out of retirement and back into show business. The audience is transported on a fascinating journey into Old Hollywood, with its engaging twists and turns behind the scenes.
The cast includes: Julie Barry (Mona Mancini), Kay Bernard (Mary Spooner), Brett Chapin (The Attendant, John Shannon, Gabe Katzman), Jean Carol (Mia Brenner), Ursula Christian (Marina Cartei), Dimitri Christy (Maury Silverstein), Steven Connor (Richard Dodge, Officer Bundy, Bob White), J. Michael Ferniany (Scotty, Voices of AA patients, and Roger Sebert), David Ghilardi (Captain Perry, Josh David), Barry Shay (Officer Brady, Terry Tremont), and Hayley Silvers (Bonnie Silverstein).
The Belle Aires opens Nov. 14 and runs thru Dec. 8 at the El Portal Theatre in the heart of the NoHo Theatre and Arts District. Showtimes: Thursday, Friday, Saturday at 8 p.m. and Sunday at 3 p.m. and 8 p.m.
Opening Week Special $17.50 Per Ticket (regular ticket price $34.99 with discounts for seniors, union members, students, and groups.)
For reservations and information, call or visit ElPortalTheatre.com. Also Plays411.com.